2010-03-13 1:12 pm
The biggest trending topic for day 1 of SXSW was "Battle decks" with 146 tweets by 37 people. "iPad" had 47 tweets by 37 people. (Leading tag cloud as of 7pm last night is below. For a sense of scale, the smallest on the graphic is "stuffwedesignfor" with 47 tweets by 9 people.)
After a tremendous coding push by Martin, Zsolt and Kristof over the last week, Taghive was functioning like a mind machete, clearing a path through the raucous jungle SXSW. Working late last night, Martin added "last day" and "last week" to the original "last hour" slice.
As I'd hoped, Taghive helped turn the firehose into a water fountain, organizing insights flooding out of various panels, spread between the Hilton and the convention center, into readable channels. Clicking from tag to tag during the day, I got a running summary of each panel. The tag cloud, with its swelling and contracting words, also signaled when a panel was suddenly heating up.
As @dhatfield tweeted earlier this week, "To achieve great things, two things are needed; a plan, and not quite enough time."
http://weblog.blogads.com/wp-content/uploads/2010/03/Day-1-leading-topic-battle-decks-smaller.jpg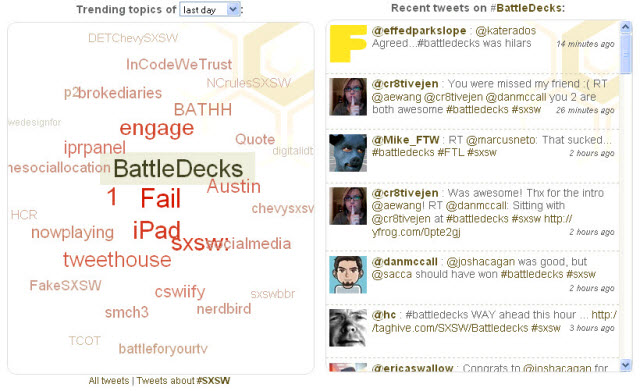 Let's see what day 2 brings.